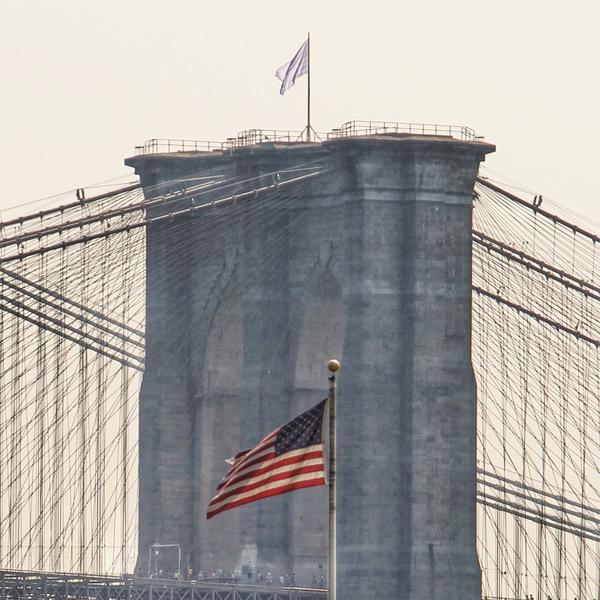 In a stunning security breach, the giant American flags at the top of both sides of the Brooklyn Bridge were replaced by white-painted flags overnight, cops said Tuesday.
Emergency Services cops lowered the two rogue flags — which are the traditional symbol for "surrender" — and folded them into tight triangles using traditional procedures around 11 a.m. The cops also packed up what appeared to be painting supplies.
The discovery was made sometime this morning.
Police are trying to figure out how someone was able to gain access to the bridge, which has patrol cars stationed on both sides and also has security cameras.
A representative from the Department of Transportation is on scene with a new set of American flags that will replace the damaged white flags, a police sources said.
A Twitter parody account named @bicyclelobby jokingly claimed credit — but Brooklyn Borough President Eric Adams said it was no laughing matter.
"If flying a white flag atop the Brooklyn Bridge is someone's idea of a joke, I'm not laughing," he said.
"The public safety of our city is of paramount importance, particularly our landmarks and bridges that are already known to be high-risk targets. We will not surrender our public safety to anyone, at any time.
"Political and social expression, whatever its message may be, has a place in our society, but not at the expense of others' security. I am confident in the NYPD's ability to investigate this matter."